Benefits and Summary of MAP
MAP Explained
The MAP program was developed to support and reward any photographer who is motivated and excited about their business.
The program starts out with your first $249 payment which goes into a savings account for you to use on products that you need for your business. As soon as you start the program, you will receive a 20% discount on most products offered by Marathon. Discounted products include press prints, professional photo prints, marketing pieces and much more.
Along with discounted prices, you have the ability to get your marketing help when you need it. You can ask any of our knowledgeable staff basic marketing questions and if you need a little extra help, our experienced Marketing Advantage Program Director and Educator is available via email and appointment.
Most studios use Marathon's talented in-house designers to create their products at a discounted rate for the design service. Others choose to submit their own designs or use an outside Designer for their work submissions.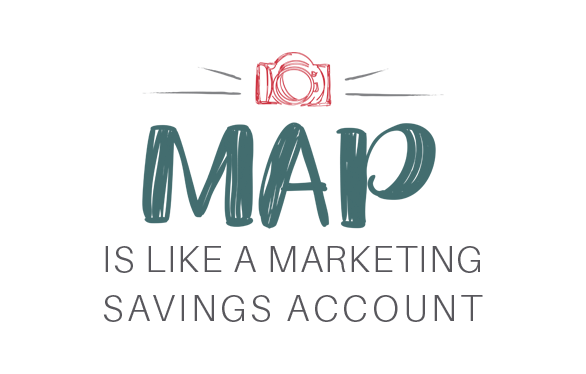 Save 20% on Most Products
Frequently Asked Questions
What is the MAP Program?
The Marathon Advantage Program (MAP) is a resource for creative professionals interested in taking their business to the next level and gaining an edge over the competition.
Do MAP members receive a special price on Marathon products?
Yes, you will receive a 20% discount on Portrait Lab Prints, Bella Prints, Bella Albums, Press Printed products as well as Design Services. Restrictions include combining your 20% discount with other discounts. You can still use your MAP Savings account for these already discounted products.
Does the discount percentage change depending on the size of my order?
You will always save the maximum 20% off all qualifying products and services, no matter the size of your order.
When does my personal marketing support begin?
Once your 30 day trial period is complete, or at any time you sign up with a 24-month commitment, we will finalize the process and start scheduling your consultation calls.
What topics do you include in your marketing support?
A large variety. Too many to list here, but just about everything including social media, networking, direct mail, pricing and price lists and everything in between.
My business is unique. How can your markeitng support help me?
It doesn't matter if you are new to the business or an experienced pro, the support provided will take into consideration your goals, budget and personality.
What if I need pricing or price list/product menu help?
This will be covered in your 6 weeks of Business Consulting and can be addressed at any time throughout your membership.
How much does this cost?
Every dollar you spend goes toward product, prints and other Marathon services. There are no additional membership fees or dues. You simply pay $299 a month which can be spent or saved in your Marathon Savings Account.
What is the $249 a month for?
The monthly cost is applied entirely to your account and can be used toward any Marathon product or service.
Includes 20% discount on qualified products
Includes any remaining credit on your account to accrue without expiration
Includes 6 weeks of customized business coaching, quarterly follow-ups as well as ongoing Marathon support
What length is the program?
There is an initial 24-month commitment to begin your MAP benefits. No additional contract is required unless you request an additional 6 weeks of customized coaching.
Can I use this program to create a new brand or tweak my existing brand?
Absolutely. Our experienced, on-staff designers are here to help you come up with a brand that suits your personality or you can design it yourself. Either way, you save 20% on the products.
How do I know if MAP is right for me?
If you know you're going to order portrait lab products and marketing materials, want marketing advice to grow your business and like to save money, then this program is perfect for you.
Call MAP Director Mark Weber at (800) 228.0629 ext. 283 to get all of your questions answered.
Is there a trial period option to test the products to see if I like what Marathon produces for me?
Yes. You may participate in our 30-day trial period and receive all MAP benefits including free test prints and calibration assistance. (Your 6 weeks of customized coaching will begin after your 30-day trial or at any time you decide that a 24-commitment makes sense for your business.)
Is it hard to place an order using my credit?
No. You can use your MAP credit in our Marathon ROES software or tell your Account Representative when you place an order with them.
How do I find out how much credit I have on my MAP account?
Simply call anyone at Marathon and they can tell you how much credit you have on hand.
What if I don't have enough money in my MAP savings account to pay for an order?
No worries! Any remaining balance will simply be billed to your credit card on file.
Are there other educational opportunities in the MAP program?
Yes. Through the MAP Members Only Facebook Group you will have access to special events, links, podcasts, etc. from various industry guests.
How do I get started?
Sign up now for your 30-day trial or pay your first month's $299 fee to start receiving marketing education and support.
Am I limited to the number of calls I make or emails I can send?
No. There may be certain times of the year where an appointment is necessary, but we are here to help get you an answer to your questions ASAP.
Who would handle my marketing questions?
A Certified Busines Coach will lead you through the first 6 consultation calls. Mark Weber M. Photog, Cr., M. Artist, CPP is available via email or by appointment. Mark has over 20 years experience consulting and teaching marketing workshops all over the country.
So there's no extra fee for the marketing questions I have?
No. That is an added benefit to being a MAP member.